The Book of Acts continues Luke's Gospel by telling the story of the Spirit of the Risen Christ let loose in the church and in the world.
Throughout this second volume of Luke's writings, he tells story after story of the church's experience with the Spirit and of these Christians' faithful witness to the gospel: the good news of God's saving work of grace and redemption that has been made available for all.
Consider Luke's story of Peter.
Since we are reading both Luke's gospel and Acts at the same time in our Living in The Story effort, we know quite a bit about Peter. Very soon in Luke's Gospel, we will read about Peter's great shame: his denial of Jesus, his betrayal of love, his fear and cowardice and abandonment of everything he had come to believe in.
But when Luke describes Peter here in Acts, we see Peter's uncompromising boldness for the gospel; we see what a miraculous work of transformation has been accomplished in his life by the power of Pentecost Spirit.
After the healing of a lame man in Acts 4, Peter proclaims: This man has been healed, has been saved by the name of Jesus Christ of Nazareth, whom you crucified, whom God raised from the dead. This Jesus is "the stone that was rejected by you, the builders; it has become the cornerstone."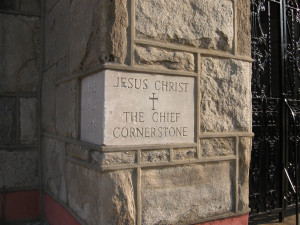 Luke's Peter quotes Psalm 118:
Continue reading

"The Cosmic Cornerstone"